We are very excited to present this amazing Lagoon 450 catamaran as it is one of the best equipped vessels in our fleet! This majestic boat bears a whooping 150 square meter surface, divided into three different levels, including two exterior decks and a spectacular fly bridge. There are four interior, spacious double cabins – each with its own ensuite bathroom and shower – and two additional external, single cabins for the crew, making this gorgeous sailing catamaran ideal for 8 people plus its captain. With air conditioning in all the rooms and a fully-equipped living room and kitchen, this ship is surely a luxurious abode!
This Lagoon 450 catamaran feels like new – it's hard to believe that it was built in 2012. This wonderful ship was only used during its first 2012 summer and has been carefully maintained while docked since then.  As the new owners with exclusive management, we will make sure this vessel's destiny changes and are looking forward to seeing it shine on the water! Come conquer the waves and experience the adventure of a lifetime with us!
This summer we are offering this Lagoon 450 luxurious catamaran for skippered weekly charters in Ibiza and Formentera as sailing is the best way to explore these islands. This rental boat will be based at the yacht Club of San Antonio. During the low season, this vessel is also available for rent to discover Mallorca and Menorca. We are very happy that this beauty won't stay tied up at the docks, but will be in full use to show you the magic of the Balearic Islands!
The Luxurious Lagoon 450 catamaran
This catamaran feels more like a floating villa than a boat. It is equipped with the latest technology and offers all kinds of luxuries to ensure you are always comfortable and well-entertained on board. After spending a week on the water in such a high level of comfort and style, you just may experience land sickness when you have to disembark!
Air conditioning with individual climate control
In order to stay comfortable during the warm summer season, this boat is equipped with air conditioning. The temperature in these 5 areas can be regulated independently from the other areas.
Lounge and public areas.
Large double cabin aft on the starboard side.
Double cabin aft on port side.
Medium size cabin on starboard side.
Medium size cabin on port side.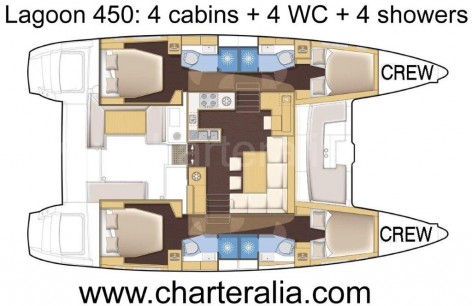 We all know that finding a temperature that pleases everyone isn't always easy. Luckily, temperatures on this vessel can be regulated independently and according to one's preferences, which will prevent heated discussions and let us keep it cool. 🙂
Onboard watermaker
One of the greater luxuries on board of a sailing boat is having an unlimited amount of water.  This way, life on board is a lot more enjoyable as you can easily do the washing up after dinner, take a nice hot shower after a day of sailing, or use the on deck shower to rinse the salt off after swimming in the sea.
Thanks to the water treatment system, all these land habits are possible on board of the luxurious rental catamaran Lagoon 450. The high-filtering capacity of the watermaker system produces up to 100 litres of fresh water per hour using seawater as the source. The system is fully-automated; it quietly draws up seawater, filters it, and pours the fresh water into the tanks.
Without this system, you would be forced to return to the marina every two or three days to refill the fresh water tanks. If we took into account the large number of vessels that are looking for a place to dock, especially during the high season, it's safe to assume that it would be nearly impossible to find a spot to dock even only for the few hours it takes to refill the tanks. Without this system, the logistics for week-long charters would be very complicated and would involve having to plan months ahead to book a spot where to dock. Changing destinations would be out of the question, so there would be no flexibility. It would also be much more time-consuming and expensive. Fortunately, those are things you don't have to worry about during your week on this vessel.
Thanks to the watermaker, we will not need to go back to port which means we'll have much more freedom! We can sail further and enjoy a greater number of beaches instead of wasting time waiting at the port to refill our tanks.
Silent 220V AC generator
The electricity for the water filtering system, air-conditioning, and the rest of the onboard equipment comes from a powerful, yet extremely quiet, generator. This generator has two built-in, silent blocks and is located just outside the main cabin. It provides all the power that is needed while allowing you to sleep peacefully.
Double deck with fly-bridge
Another outstanding feature of this luxury catamaran Lagoon 450 is the outside helm situated on the top deck, also known as a Fly-Bridge or overpass.
There are multiple advantages of the fly bridge, including:
Having the top deck specially designed to maneuver this ship gives the captain a lot of comfort since he has all the navigation and sailing equipment within reach and in perfect order. This also means more privacy for the guests who have the main deck all to themselves. This deck is clear from ropes and pulleys, so the guests can walk around comfortably without the risk of tripping over them.
The fly bridge is situated on the top deck of the ship allowing the captain to have a full unobstructed 360-degree view at all times, permitting him to comfortably and safely adjust the sails as needed.
If guests want to enjoy a captain's view, they can easily climb to the upper deck which is very spacious and accommodates up to 8 people. There are also a few sun beds that fit up to four people.
Safety is increased since the captain can choose to maneuver the ship in total tranquillity, having a clear view and all the navigation equipment at hand.
Modern appliances on board
The appliances installed on the boat include:
Washing machine: Conveniently available for customers to wash their clothes during their vacation. Enjoying the sun and sea while the washing machine does all the dirty work for you will make you actually like doing laundry!
Dryer: No need to air out your laundry on the outside of the boat! Dry your clothes quickly and easily on board.
Dishwasher: Forget the tedious task of washing dishes after lunch or dinner! Let the dishwasher, situated in the kitchen, do all the washing up while you go back to relaxing after a good meal.
Microwave: Want a quick, warm bite? Quickly heat up food and drinks without having to use the gas stove.
Gas stove with 3 burners: Prepare a satisfying, home-cooked meal you can enjoy with friends and family.
Two indoor and outdoor electric refrigerators: Plenty of room to store a week's supply of food (and drinks).
Five flat screen TVs with integrated DVD players: A large 36-inch TV that is neatly tucked away in a cabinet and can be moved up and down by simply pressing a button on the remote control. Want to watch a little bit of TV before falling asleep? No problem – you will also find a flat screen TV, with an integrated DVD player, in each cabin!
Full Sails, pointers, and navigation instruments
This catamaran is a beautiful multihull vessel equipped with 3 sails, including: a mainsail with a cover, a genoa jib headsail, and a powerful asymmetrical gennaker sail, perfect for downwind sailing. All sails come with a roller furling system and electric winches which ease the maneuvering of the sails. The bow thruster can be used for more efficient maneuvering in and out of the docks although most of the time, this won't be necessary since having two engines makes maneuvering quite easy.
Spectacular interiors
As seen in the pictures below, the interior spaces and cabins have been designed with the utmost care and exquisite taste. You will experience the highest level of style at home on the Lagoon 450 catamaran.
Toys on board
This lovely Lagoon 450 catamaran comes with an inflatable stand up paddle surf board, snorkel gear for all passengers, inflatable kayak and a nice dinghy with outboard engine, so our guests can embark and disembark at any of the gorgeous beaches along Ibiza and Formentera Islands.
Weekly rental rates for Ibiza
You can see the rental fee table below. The rental fee includes: skipper, taxes, sheets, towels, dinghy, outboard motor of the dinghy, and final cleaning.
Weekly rental fees

| Period | Ppl | Cabins | WC | 27/04 – 07/06 | 08/06 – 28/06 | 29/06 – 26/07 | 27/07 – 23/08 | 24/08 – 20/09 | 21/09 – 01/11 | Deposit |
| --- | --- | --- | --- | --- | --- | --- | --- | --- | --- | --- |
| Week Sat-Sat | 8+1 | 4+1 | 4 | 15,400 | 17,000 | 17,400 | 17,900 | 16,400 | 14,400 | 500 |
Our weekly rentals start on Saturday at 16:00 and end the following Saturday at 9:00. We depart from the Yacht Club of San Antonio and return to our base Friday night before sunset, with your final night spent in San Antonio where you can enjoy one of the many superb local restaurants & bars and slowly get acclimated back to land life.
At the end of the lease period, the final expenditures are calculated and subtracted from the 500 euro deposit. These expenditures include fuel for the engines of the Lagoon 450 catamaran and the outboard motor of the dinghy as well as the energy used by the generator to power the air conditioning and water maker system. The average cost of fuel for one week is between 200 and 300 euro.
If you would like to have someone to take care of the chores so you don't have to clean up the boat or cook, do the dishes, etc, there's the possibility to hire a hostess for 1,050 euro a week, and she will make you feel like you really are on holidays! 😉
By Jose Navas. In this link you can read the history of CharterAlia, our boat rental in Ibiza.