Renting our amazing Mariah speedboat is a wonderful way to discover the southern beaches of Ibiza. This fast 6.5-metre speed boat can take up to SIX PEOPLE (legally up to 8) plus our captain, making it a great ally for some serious fun! This speed boat is based at Porroig, next to Blue Marlin Cala Jondal. A perfect location since it's very easy and convenient to get on board from the small jetty. It´s also a great place to start one of our famous boat excursions. We can take you to our favourite beaches along the South of Ibiza or explore the paradise islands of Espalmador and Formentera. Please note that the pick-up location may be changed to Play d'en Bossa (Figueretas) for a small additional charge.
On this page you will find more information about our rates, the characteristics of our amazing speedboat, and the many amenities that we offer.
All-inclusive rates.
The table below shows our daily rental fees of our speed boat apt for 8 persons.
Rental fees including fuel, tax, and captain

| Period | People | Length | Engine | 01/10 – 31/05 | 01/06 – 30/06 | 01/07 – 31/08 | 01/09 – 30/09 |
| --- | --- | --- | --- | --- | --- | --- | --- |
| Full day 8h | 8 | 6.50 m | 1 x 225 HP | 650 | 750 | 850 | 750 |
| Half day 4h | 8 | 6.50 m | 1 x 225 HP | 550 | 650 | 750 | 650 |
| Morning 9:00 to 12:30 | 8 | 6.50 m | 1 x 225 HP | 450 | 550 | 650 | 550 |
At Charteralia all our rates include captain, fuel, taxes and cleaning costs!
Please keep in mind that not all boat rental companies include these costs. Comparing prices without knowing what is included in the rental fee can be tricky. That is why we always advise asking what is included in the rental fee when comparing other offers. We love bargains, but we hate unpleasant last-minute surprises, so make sure you are well-informed.
We like keeping things clear and simple form the very start. The gasoline that we include in the rental fee covers the itinerary of our most requested excursion, starting from our base (Porroig bay next to Blue Marlin Cala Jondal) to the idyllic beaches North of Formentera (Illetas Beach) and back to the pick-up point. This speedboat ride takes about an hour and fifteen minutes round trip. Naturally, we can venture beyond the usual route, but then we do need to add an extra cost of 70 euro for each additional hour of engine use.
But again, I would like to emphasize that if you make the trip from Porroig, next to Blue Marlin Cala Jondal, to Ses Illetes, in the north of Formentera, the price includes everything, even fuel, except for, logically, what you may spend on eating and drinking.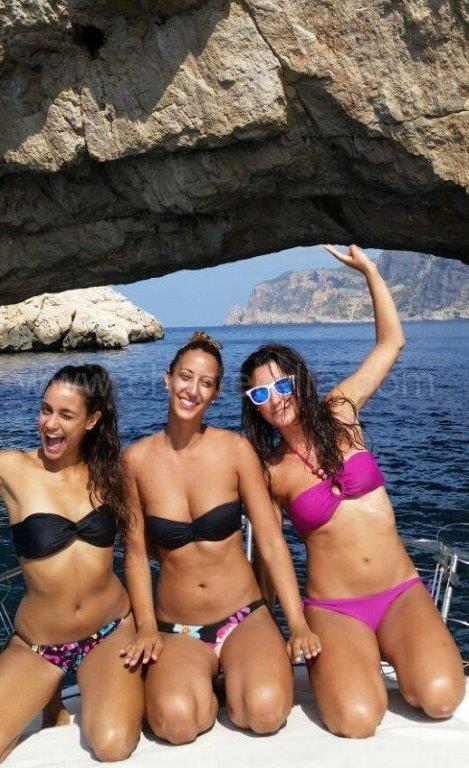 What can you bring on the boat?
When going on a boat trip, it is always nice to have some food and drinks on board. So feel free to bring your favourite snacks and refreshments for the day. It is also possible to anchor at any of the well-known beach restaurants along Las Illetas Beach at the north of Formentera. If you plan ahead and inform us in advance, we will be happy to book a table under your name at any of these popular restaurants. These are a few restaurants that in our opinion are worth checking out: Es Moli de la Sal, Juan y Andrea, El Pirata, Tanga, Beso Beach, El Tiburon, and Es Ministre.
A good place to look for more information regarding these restaurants is Trip Advisor. They have also selected Illetas beach in Formentera as one of the top 10 beaches in the world!
Don't take their word for it, come with us and see it for yourself!
On board amenities and fun on our rental speed boat in Ibiza and Formentera
In the introduction we promised you some serious fun, so here is a list of our additional equipment that will make your day at sea a fun, active, and unforgettable experience!
Powerful speakers so you can play and enjoy your favourite music.
Snorkelling equipment for all passengers, including diving goggles, fins, and snorkels.
Fresh water shower at the stern.
An inflatable doughnut.
Because we love spoiling our customers, we have included a wakeboard free of charge for those who rent this beautiful speed boat! This is the best way to push your limits and experience life in the fast lane.
Technical features of this vessel
Our beautiful boat is six and a half metres long and can comfortably accommodate up to 8 people, leaving sufficient space for food and drinks that you bring on board. What makes this boat special is the care that its builders gave in creating her. If you look at the pictures, you can see the amount of details the scorecard has. All the surfaces are neatly-finished, adding a luxurious touch to the boat. Comfort is another central theme of this fine piece of modern craftsmanship. The electric anchor winch will take care of raising and dropping the anchor, giving the captain some time to relax and enjoy the sea breeze. The 225 hp engine is the part that gives speed to the boat. On a gentle sea, this vessel can speed up to an impressive 30 knots.
The great advantage of inboard engine.
One of the great advantages of this ship is that it comes with an inboard engine. The term is pretty self-explanatory, meaning that the engine is situated inside of the hull of the boat. This also has aesthetic value as the engine is carefully tucked away. Below you can read some other important reasons why we prefer this type of engine.
Having an inboard motor increases security. As the submerged propeller is covered, it reduces the chance of unfortunate accidents. It safeguards nearby swimmers, so you forget about the engine and you can sit at the back of the boat, dip your feet into the refreshing water and relax. In case the boat needs to move and the engine needs to be turned on, you won't even have to get up. Keep calm and enjoy the sea!
Not having an engine stuck to the outside of a boat creates a lot of space that you can use for much better purposes. At the back of the boat, there is now a clear platform which facilitates access to the water. The platform could be used to lie down and relax.
The last thing that we love about this kind of engine is that is quieter than their outboard counterparts. This is not only due to the fact that it is situated inside the boat, but the engine also has special silencers that absorb the noise and reduce the vibrations coming from the motor.
To sum up, these types of motors are ideal if you love feeling comfortable, safe, and relaxed.
Let's book it!
In order to secure your booking, we usually ask for a 50% deposit in advance (read about our payment methods) and we will book the speedboat for the day, or days, that you have selected. You can pay the rest of your balance directly to the captain, who will take you on this fantastic trip, when you arrive at the boat.
Please note that this boat rents out fast, especially during July and August, which is why we recommend giving us enough time in advance. So get in touch with us by email (info@charteralia.com ) or give us a call: +34 651 930 939 (Also on WhatsApp) and we will check if the date you have chosen is available. We are also here for you to answer any questions you may have. See you in Ibiza!!!!!
By Laura Soteras