This is our beautiful Lagoon 380 2017 catamaran, Mister Hyde, amongst our fleet of skippered yacht rentals in Ibiza and Formentera. More than just comfort, this is a pure luxury in an Ibiza boat hire.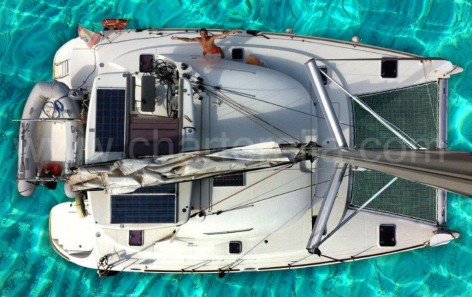 Interior distribution of four double cabins and two toilets
This catamaran has four double cabins and two bathrooms. During the day it can take up to 12 people. For overnight stays, the maximum capacity is 8 people. If all cabins are taken by our customers, the captain will sleep in the living room or the forepeaks.
Sailing routes without port
Like we always say, there's nothing like waking up in the morning and diving into the turquoise waters that surround the islands of Ibiza and Formentera. For some ideas about the places where we can sail to, please read about the traditional sailing routes around Ibiza and Formentera that we recommend for one or two weeks on board.
For nights that you spend anchored in front of a white sand beach with crystal clear water, on board you will find an inflatable dinghy with an outboard engine that the captain may use to take you to land to enjoy a delicious local dish or simply stretch your legs.
Living room with kitchen, back terrace and front nets
In addition to the four comfortable double cabins, this brand new Lagoon 380 2017 catamaran has a spacious living room with dining table and full kitchen, a sheltered rear terrace with shade and an outdoor dining table with capacity for 8 people and, above all, nets in the front of the boat, where you can lie down to feel like you are floating on top of the waves while sailing with the cool ocean breeze softly brushing your hair.  😉
The boat also has two bathrooms that are accessible from the corridor, with toilet and shower that feed from the 600 litre fresh water tanks of the boat plus 60 litres of hot water from the small boiler.
State of the art electronics with RADAR and GPS.
This amazing multi-hull sailing boat is equipped with modern electronics:
Digital Radio VHF with selective digital calling.
Outdoor touch screen GPS Plotter Raymarine HD and nautical charts of the Mediterranean.
HD low consumption RADAR.
Three new service batteries of 140 amp each.
Multimedia equipment with Bluetooth and 4 speakers, two inside in the living room and two outside on the deck.
Wind reader, depth reader, speed log.
Electric anchor.
Additional inflatable dinghy with outboard engine. This allows the captain to take the guests to land whenever they want.
Boat charter Ibiza: On board like at home
This Lagoon 380 2017 catamaran has all necessary commodities to make our guests feel like they are at, more than just an Ibiza yacht charter, but home:
Hot water boiler that is activated by the use of the boat's engine.
Linens, including: sheets, towels, and pillowcases.
Outdoor mats to sit or lie down on comfortably on the deck.
Nets at the bow of the boat to lie down, so you can float above the waves.
A comfortable seat on each bow. It is the best place to enjoy the nicest view.
An outdoor dining table for 8 people on the deck.
An indoor dining table for 6 guests in the lounge.
Wardrobes with hangers in each of the 4 cabins.
Inflatable stand up paddle board with an oar.
Snorkeling equipment for all guests that stay on board.
Hutches in the bows to store empty suitcases.
Fully equipped kitchen
The galley is fully equipped with everything you need for great cooking and comfortable daily life. This is what you will find in our on board kitchen:
Gas oven with grill and trays.
Three gas hobs of various sizes to cook on.
Kitchenware (pans, pots, cutlery, plates, cups, trays, etc.)
Cabinets, drawers, etc.
Automatic opening trash bin.
Fees of catamaran Lagoon 380 2017 in Ibiza
Rates include EVERYTHING except for food, drinks and the fuel used throughout your stay, which can estimate to about 300 euros for the week (actual price is 15 euro per hour).
| Period | People | 01/11 – 31/03 | 01/04 – 14/06 | 15/06 – 19/09 | 20/09 – 31/10 |
| --- | --- | --- | --- | --- | --- |
| Full week rental from Saturday to Saturday | 8+1 | 9,950 | 10,950 | 11,950 | 10,950 |
| Full week rental not starting on Saturday | 8+1 | 10,950 | 12,950 | 13,950 | 12,950 |
| Period | People | 01/11 – 31/03 | 01/04 – 14/06 | 15/06 – 19/09 | 20/09 – 31/10 |
| --- | --- | --- | --- | --- | --- |
| Day charter (8h) | 11+1 | 2,950 | 2,950 | 2,950 | 2,950 |
| Day charter with overnight stay (price per day) | 8+1 | 3,450 | 3,450 | 3,450 | 3,450 |
(*) The check-in and check-out point will take place in Cala Jondal, where the captain will take you to the boat on the dinghy.
What is included in the fee?
Petrol for the boat for day rentals without overnight stay. Fuel for rentals with overnight stay is not included and it is 10 euros per hour (about 35-40 euro per day).
Gasoline for the dinghy.
Sheets, towels and comforters (for spring and fall).
Final cleaning.
Paddle board and oar.
Professional skipper.
All taxes.
All necessary permits and mandatory insurance.
Other Considerations
When we rent the boat for full weeks, check-in is Saturday at 16:00.
The rental week is over on the following Saturday at 9:00 am, at the same point than the check-in, but it is mandatory to be back at that place on Friday night just after sunset.
By Jose Navas – Founder, manager and skipper in CharterAlia, Ibiza boat rental.
Read our story here.