This Sunseeker Camargue 46 is a gorgeous luxury yacht that we offer for mostly for day charters but also for overnight stay rentals in Ibiza and Formentera.
The amazing Sunseeker power yacht was built in 01 but she has been completely renovated in 2015, so it feels like new and it comes packed with lots of extras and amenities!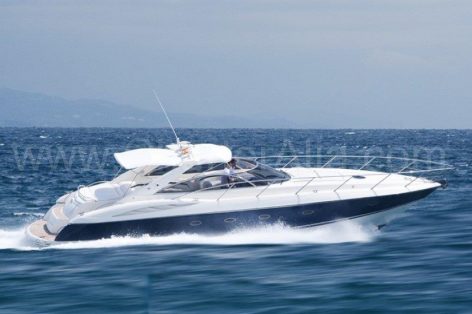 Rental fees including tax and captain
The following table shows the daily rate of this beautiful Ibiza yacht hire depending on the month. Fees do not include fuel, which is to be paid upon disembarking, estimated amount of 500 euros to do a round trip to Formentera (Illetas).
Daily fees including taxes and captain

| Period | Ppl | Length | Motor | 01/10 – 31/05 | 01/06 – 30/06 | 01/07 – 31/09 |
| --- | --- | --- | --- | --- | --- | --- |
| Full day 8h | 11+1 | 15 m | 2 x 600 HP | 2,500 | 2,500 | 3,100 |
| Half day 4h | 11+1 | 15 m | 2 x 600 HP | 2,100 | 2,050 | 2,500 |
| Morning 8:30-12:00 | 11+1 | 15 m | 2 x 600 HP | 1,590 | 1,500 | 2,050 |
If you take into account that captain (200 euro) plus tax (circa 500 euro), the net price is unbelievable!
Daily Rental fees
Fuel for this astonishing power yacht is around 400 euros for our most demanded itinerary towards Formentera and Espalmador Islands. The typical itinerary goes to Formentera from our base in the Ibiza Marina.
Day charter itinerary Ibiza
You will start your day from the base of this luxurious motor boat, at Porroig, next to Blue Marlin Cala Jondal, then you will sail off Es Codolar and Salinas beach towards Espalmador Islands, where you can anchor for swimming and snorkelling. You can continue down South to the north of Formentera Island: the legendary Illetas Beach and Cavall D'en Borras Beach, where you can disembark for lunch at any of the most famous restaurants such as Juan y Andrea or Moli de la Sal.
Whenever you are ready we can motor across the most exclusive boat are in the world and start heading back to our base in Ibiza town.
This is the ideal location if you are staying in Ibiza town or Ushuaia or Hard Rock Hotel in Embossa Beach since it is only a quick walk away.
Sunseeker Camargue 46 features
This Camargue 46 Ibiza yacht hire comes packed with extras and amenities:
Snorkelling gear.
On board WiFi.
Stand Up Paddle Board.
Dinghy with an outboard engine.
Brand new sun beds at the front and back.
Front and back Thrusters.
TV Amplifier.
Radar.
Autopilot.
Full navigation gear.
Hydraulic passarelle.
Ladder for swimming.
Exterior of the Sunseeker 46 Camargue yacht rental in Ibiza
Ibiza is known as the white island, as white as the new leather upholstery in all the sunbeds at the rear, front and the sofas around the table.
Interior of the yacht charter Ibiza Camargue Sunseeker 46
This is really one of the most complete power yachts in our fleet! Come and see for yourself and ask us about our early booking discounts.
By Jose Navas- You can read about us.