This Lagoon 400 catamaran is probably the largest sailing catamaran in the Balearic Islands offering one-day trips without an overnight stay, even in high season. We offer exclusive day trips on this amazing catamaran all year round. This luxurious sailing yacht offers 90 stunning square metres  to enjoy every minute while sailing along the best beaches in Ibiza!
Please take into account that since this Lagoon 400 catamaran is offered only for day charter, it has no interior space available for customers: no cabins or inside living room. There's a toilet with access from the outside in the starboard bow and an outside hot and cold tap water shower by the steps in the port stern.
| Period | People | Cabs | WC | 01/04 – 31/05 | 01/06 – 31/08 | 01/09 – 14/09 | 15/09 – 31/10 |
| --- | --- | --- | --- | --- | --- | --- | --- |
| Full day (8h) | 11+1 | 0 | 1 | 2,600 | 3,500 | 2,600 | 2,200 |
| Half day (3:30h) | 11+1 | 0 | 1 | 1,900 | 2,500 | 1,900 | 1,600 |
Embarking and disembarking will take place in Cala Jondal where our crew members will take you to our catamaran on one of our zodiacs. 
Lagoon 400 catamaran: Long list of extras INCLUDED
Snorkelling equipment for all passengers.
Stand up paddle surf board.
Logitech Megaboom Bluetooth speakers: A powerful on board sound system that allows you to play your favourite music while lying on the net from your own mobile phone: Iphone, Android, Blackberry, etc.
Dinghy and outboard engine.
Food and drinks are not included in the price. You are free to bring your own or you can also disembark at any of the restaurants on the beaches that we will visit, or both!
Amazing dimensions: 90 square metres
Although this boat for hire in Ibiza Lagoon 400 catamaran is only 2 feet longer than its smaller brother, the Lagoon 380 catamaran, it really feels more spacious and comfortable. Our customers love this catamaran. There are three key factors that make this catamaran more enjoyable.
This charter catamaran is over one and a half metres higher. This extra height offers a few advantages when compared to the lower models. First of all, it is a great feeling to be suspended high above the waves. Most people feel safer because they are high and dry above the sea. The waves have even less impact on this vessel because it is bigger, so you will feel more comfortable. Finally the extra height makes it possible to create interiors with high ceilings. This creates a greater sense of well being since you won't feel cramped.
 The Lagoon 400 rental catamaran is also one metre wider than the 380 model. This adds an extra 15 square meters to the total surface space. So for instance it is possible to lie at least 7 extra towels on the deck or even sunbathe diagonally.
Stability, comfort and safety
The entire 90 square metre exterior, which is the best part of this amazing catamaran, is at the disposal of our customers, including the nets, the dining table, access to the toilet at the starboard bow, and the shade areas in the back terrace.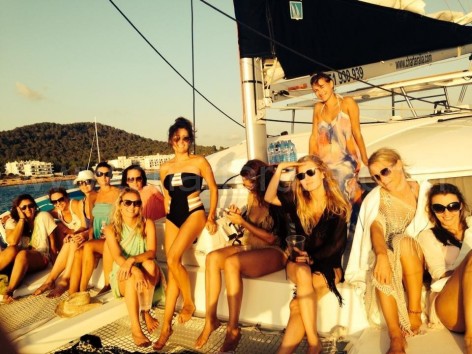 These charter catamarans are perfect for one day excursions because they are more stable than motor boats and traditional sailing boats. Catamarans are ideal for people that are not accustomed to sailing. Its stability prevents passengers from getting seasick and it creates a safe environment that is enjoyable even for young children.
Getting on board is piece of cake!
The best excursion that we offer in Charteralia Ibiza Boat Hire is without doubt, the boat trip that takes you sailing along the best beaches in Ibiza. Almost all our clients request this excursion and love it. We either begin from Cala Jondal or from San Antonio (depending on the water conditions of the day). If we leave from San Antonio, we glide in front of S'estanyol Beach and Es Torrents Beach and about 45 minutes later, we arrive at the amazing Cala Bassa Beach. We drop the anchor in front of the white sand in Calabassa for swimming, snorkeling and paddle surfing. Whenever you are ready to move on to the next amazing spot, we will continue our trip to Cala Conta, where we will also anchor for a while. Finally, we will continue sailing past Rabbit Island (Isla de la Conejera) and arrive at the legendary Café del Mar and Café Mambo clubs for sunset.
Music on board Ibiza boat hire
On board this amazing Lagoon 400 catamaran, you can be the DJ! There is a great sound system on board and it can be connected via Bluetooth to all your devices such as Iphones, Android phones, tablets and laptops. You will be able to play your favourite music on board creating a great soundtrack to this epic journey.
Entertainment on board
Not only is this catamaran great on its own, with wonderful decks and comfortable sunbeds, lounges and bow nets to relax, but this luxurious day charter catamaran is packed with lots of extras and amenities like snorkelling gear, paddle surf board, music, and on board WIFI! Plus having Ibiza as your playground will make time fly!
Local food and additional boat services
The restaurants located at the seaside offer an extra dinghy service to guests that arrive by boat. When customers are ready to leave the catamaran, the captain calls the restaurant and the dinghy boy will pick our passengers from the catamaran with a speed boat and will take them to the restaurant on the shore.
Getting to know the local restaurants is always a great way to experience local gastronomy and we pass by some of Ibiza's best restaurants. The food they offer varies from traditional Spanish and Ibiza local dishes to modern experimental cuisine. This great variety makes it possible to find a good meal that suits everyone's taste.
If you decide to disembark for lunch, we will give you one complimentary hour on the catamaran. We want you to really enjoy your meal and we don't want you to have the feeling that eating out is at the expense of being on the catamaran. This way you won't have to rush and you get to enjoy eating at a great restaurant and enjoy an extra hour on the catamaran when you return.
Disembarking for lunch is also a great way to get to know the island a bit better. It is always nice to stretch your legs and walk along the shore. Kids (and adults) love the free ride with the speed boat to shore and the local skippers are happy to give some extra gas.
Read the story of our boat hire Ibiza company, Charteralia.